Luscious Ice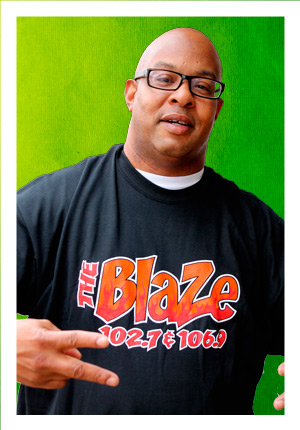 Like The Blaze, Luscious Ice has become an institution in East Texas. Originally from Houston, Ice has twenty-five years of radio experience.
He studied Telecommunications Radio & Television in his hometown at Texas Southern University. He also worked at the on-campus radio station KTSU from 1987-1991.
After school he became the Mix Show Director and Assistant Music Director at legendary KBXX (The Boxx) in H-Town. He spent eight years learning the trade from the best. During this time Ice was the Tour DJ for 2 Live Crew.
Ice first cracked the mic in East Texas in 1999 where he became the voice of the afternoon and the Program Director of the brand new station known as The Blaze. After two years, the big city was calling and Ice decided to answer and go north. His first stop was Philadelphia's WPHI where he was on the air and Program Director. Next he trekked to Memphis' KXHT where he was on-air in the morning and served as Operations Manager.
But the lure of home was too strong to resist. Ice came back home to The Blaze in 2003 to do what he does best...make it fun in the afternoon representing the fine people of East Texas.
You can look for him at your favorite club or party. He owns Luscious Ice Entertainment and Luscious Ice Sounds and is also a member of GO DJs Global.
Listen to Ice on The Blaze from 2pm - 6pm every weekday afternoon.
Q & A: Luscious Ice

Who are some of your favorite artists?

UGK, Too Short, Jay-Z, Biggie, Pac, Scarface, ice cube, Dr. Dre', Public Enemy

What is your all-time favorite album?

Reasonable Doubt Jay-Biggie (2 Albums) UGK Greatest hits All Eyes on Me (2 Pac)

What is your favorite movie?

Stripes, Goodfellas

Do you have a favorite actor/actress?

Denzel Washington, Halle Berry

What is your favorite word?

Baby

What is your least favorite word?

The "N" word

What turns you on?

Music

What turns you off?

Loud People

What sound do you love?

All types of music

What sound do you hate?

people that complain

What is your favorite curse word?

Sh*t

What profession other than yours would you like to attempt?

Mechanic

What profession would you not like to do?

Funeral home work

If heaven exists, what would you like to hear God say when you arrive at the pearly gates?

Son, you did well reppin' me, I have your VIP Pass.