DJ Blaq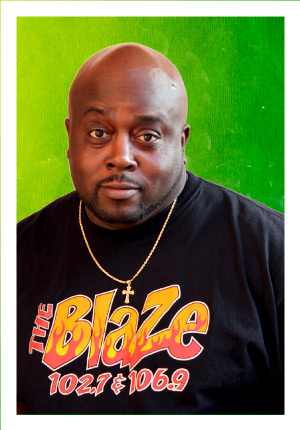 Blaq was born and raised in Dallas and developed a love for music at a very young age. He actually hosted his own radio talk show as a kid...his audience made of G.I. Joe action figures.
His big boy radio career began in Dallas/Ft. Worth working for ABC Radio Group. Blaq moved to Tyler in October of 2003 and began at The Blaze in June of 2004.
True to his Dallas roots, Blaq is a big Dallas Cowboy fan as well as a fan of the Mavericks. He philosophy of music: "I'm a fan of good music, If it's hot, and the people are feeling it, I'm with it".
Blaq's professional goal is to become a premiere personality in the radio community. You can hear him on his journey 6pm - 10pm each weekday night on The Blaze.
Q & A: DJ Blaq

Who are some of your favorite artists?

New Edition, Kendrick Lamar, Usher, John Legend

What is your all-time favorite album?

New Edition Home Again

What is your favorite movie?

Scarface

Do you have a favorite actor/actress?

Denzel Washington, Morgan Freeman

What is your favorite word?

Bet!!

What is your least favorite word?

Can't

What turns you on?

Exotic Vacations

What turns you off?

Negative Attitudes

What sound do you love?

The sound of money

What sound do you hate?

Arguing

What is your favorite curse word?

They all work ok

What profession other than yours would you like to attempt?

Acting

What profession would you not like to do?

Mortician

If heaven exists, what would you like to hear God say when you arrive at the pearly gates?

You're Home